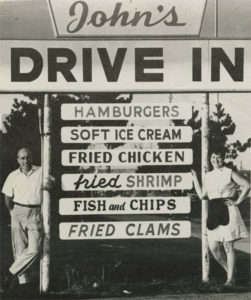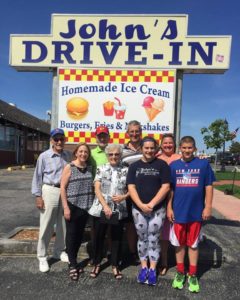 John's Drive-In was opened in 1967 by John Torr. Originally, the building resembled a classic Carvel storefront. There have been additions along the way. We have indoor and outdoor seating. Current owners, Maureen and David Rutkowski, ran the business from 1985 to 2003 and returned in 2016.
After 13 years away from it, David and Maureen – along with their children Alex and John – in 2016 became the proud new "old" owners of John's Drive-In.
"We're happy to be back," said David. "We sold the business to a long-time staff member when our oldest was 3, wanting more together time for our family, especially in the summer." Now that their children are older, David and Maureen feel it is a good time to get back into the business. Alex and John are very excited to be involved right alongside mom and dad.
For the Rutkowskis, John's Drive-In has always been a family affair. When David purchased the Drive-In in 1985, his mom, dad, brother and sister jumped right in to help. They were a constant presence there right until David sold the business 17 years later. David and Maureen met at the Drive-In (she'll gladly tell you that she taught David the ice cream flavors when he purchased the business). She began working there for the Mirras family in 1984, and continued on once David became owner. They married in 1998. Upon the family's return in 2016, David's family again returned to help, along with Maureen's parents.